Leila Rankin, MS, PA-C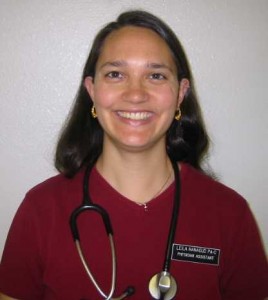 It has been a privilege to work with you in supporting your health and taking care of you in times of illness while at Hinman Family Practice over the past 12 years. I am honored that you have put your trust in me as one of your health care providers. I have thoroughly enjoyed caring for whole families, watching your children grow and thrive, and taking care of each individual's needs as they arise. I am truly grateful for having had this opportunity.
It is with sadness and very mixed emotions that I share the bittersweet news with you that I will be leaving Hinman Family Practice in mid January to pursue other opportunities in my career as a Physician Assistant.
I leave with fond memories, gratitude, appreciation and wonderful experience caring for patients in a Family Practice setting. I wish you all the best. Take good care of yourself.
Leila Rankin PA-C
Leila Rankin is a Physician Assistant who joined Dr. Hinman's practice in December of 2004. She moved from the east coast where she had been working in Internal Medicine in Salisbury, Maryland. Leila loves living in Colorado and has found Longmont to be wonderful town to raise her two boys. If Leila has not already met you, she looks forward to meeting and working with you to take care of your health care needs.
Leila grew up in Atlanta, Georgia and attended Georgia State University. She graduated with a Bachelor of Science degree in Biology with a minor in Chemistry. Leila has always liked the sciences but realized that she particularly enjoys working with and helping people. So, when a physician friend of hers talked to her about the Physician Assistant field, she felt like it was a perfect match for her career aspirations. Leila worked for a few years after college as a Research Specialist on a joint CDC/Emory research project accruing excellent patient care experience while working closely with a Physician Assistant who was a stellar mentor. After that experience, Leila was sure she wanted to be a PA!
Leila attended George Washington University's Physician Assistant Program which is consistently ranked as one of the top five PA programs in the nation. She thoroughly enjoyed her graduate school experience in Washington, DC; and felt like her training more than adequately prepared her for a career as a PA in primary care. Leila's graduate program had the added resource of George Washington University's Medical School. She attended many classes with the medical students and acquired her patient care experience on rotations at some of the finest hospitals in the metropolitan DC area.
Leila graduated from PA school in August of 2000 with a Masters of Science in Health Sciences. Shortly thereafter she moved to the Eastern Shore of Maryland where she practiced at the same Internal Medicine office for almost four years. Leila loves working in primary care; enjoys women's health, preventive medicine and patient education. Leila also has an interest in dermatology, diabetes, mental health issues and treating many of the acute illnesses that present to primary care offices. She likes to involve her patients in their own health care decisions and work as a team, alongside her supervising physician, to provide excellent, thorough care.